CBD Muscle comes with four CBD-based products that claim to combat muscle pain and enhance recovery.
Following 2018's farm bill, hemp can be cultivated and CBD extracted legally in the US.
This has resulted in thousands of new health products that contain CBD to be pumped into the market with little-to-no research.
The makers claim these products are safe, side-effect free, and non-prescription alternatives to muscle relaxers and painkillers.
What Are CBD Products?
CBD products are a new trend that very few users actually understand.
For most people, just the fact that medical marijuana works to reduce pain is good enough to use Cannabinoid products.
As for others, they see their favorite celebs using CBD products like and take that as an endorsement.
However, I believe that if you are going to put something on or in your body, you need to know what it does first.
This is the same with CBD products since they claim to be effective alternatives to painkillers and muscle relaxers. Cannabidiol is also said to help combat arthritis as well (1). Additionally, it's good to know the exact effect a particular product is having on your body.
With the right info, you are also able to pick the best-suited product for the set of benefits you want.
In this article, we will be looking into CBD Muscle and its products. I've discussed each product, its ingredients, benefits, and pricing.
I've also included my recommendation and a review summary for those interested.
By the end of this review, you will be able to take a clear decision on whether or not CBD Muscle is the right CBD brand for you.
What Are Painkillers?
Painkillers are drugs that help reduce (or kill) the sensation of pain itself (2). These drugs don't actually affect the source of pain (injury, inflammation, etc.).
In fact, painkillers work by acting on the central nervous system to deceive the mind into believing that there is no pain. The painkiller used causes the pain receptors in the brain to be blocked off.
What Are Muscle Relaxers?
Muscle relaxers don't work to dull the sensation of pain by acting on the brain's pain receptors (3). Instead, these drugs cut off the nerve transmissions of the pain at the acute musculoskeletal levels.
This is also why muscle relaxers are known as neuromuscular blocking agents. In fact, this is why you get muscle relaxers that come in topical creams, gels, and sprays.
That said, you can find some muscle relaxers come in pill form to relax the muscles throughout the body. But muscle relaxants work fastest when applied directly on the skin.
Can CBD Act As A Muscle Relaxant and Painkiller?
CBD acts on the cannabinoid receptors that are found throughout the body.
You don't have to have smoked marijuana to have these receptors either. These receptors are part of the endocannabinoid system (ECS).
In fact, the National Organization for the Reform of Marijuana Laws (NORML) has stated that " [the ECS] is the most important physiologic system involved in establishing and maintaining human health (4)."
It's found that the ECS is responsible for cell-to-cell communication in the muscle and nerve groups. And it's this communication that is affected (to reduce pain and boost recovery) when CBD Muscle is used.
Dangers Of Prescription Based Muscle Relaxants:
Several prescription muscle relaxants (like carisoprodol or benzodiazepines) are considered Schedule IV controlled substances.
That means that without a prescription, it is illegal to buy, sell, or use them. And doing so is punishable by jail time, just like with Cocaine or other opioids.
The reason for this classification is that many of these muscle relaxants can be very addictive (5). They also cause side effects, including low blood pressure, liver disease, and depression.
Worst of all, they can lead to death if taken with alcohol or OTC sleep medication. This is also one of the most common means of suicide in the US.
This danger from using prescription muscle relaxants is the reason the public is all for CBD and its non-addictive benefits.

What Is CBD Muscle?
CBD Muscle is a CBD brand that has helped thousands of men and women safely deal with (and conquer) muscle pain and soreness.
It is made from organic hemp-extracted CBD, which also provides recovery-boosting benefits.
Additionally, it's known that all CBD Muscle products make use of Full Spectrum CBD over CBD Isolate for maximum results.
Over the years, they have introduced four products that provide you with a safe and effective alternative to painkillers and muscle relaxers.
When taken with bulking supplements, it can enhance muscle recovery and promote workout performance.
List Of CBD Muscle Products On Offer:
CBD Muscle CBD Oil (6% CBD):
CBD Muscle Oil contains 3mg of CBD per drop and is to be taken sublingually (under the tongue).
The highly concentrated dosage is made from organic hemp that contains a proprietary blend of phytocannabinoids with full spectrum CBD.
The delivery method used ensures that the CBD is delivered directly to the bloodstream and works within minutes of use.
The best time to use this product is before and after your workouts as the increase in CBD levels can alleviate pain and speed up recovery.
CBD Muscle CBD Oil (12% CBD):
This CBD Oil contains 6mg of CBD per drop and is twice as potent as the 6% liquid.
It works in the same way as the previous CBD Oil but has a more concentrated dosage of CBD.
They both provide the same pain relief and muscle relaxing benefits, but 12% provides a stronger effect.
For most people, the 6% CBD Oil is sufficient. But if you have frequent muscle pains and difficulty fully recovering, this 12% CBD Oil is for you.
CBD Muscle Recovery Balm:
CBD Muscle Recovery Balm is a balm that targets localized pain relief.
This topical balm contains 300mg of CBD, which is proven to boost the revitalization of the skin and muscle tissue (6).
It's most effective post-workout when you have specific muscles that are in pain or are sore.
Along with CBD, its proprietary blend contains soothing and relaxing ingredients like cocoa butter, coconut oil, beeswax, and essential oils.
This fast-absorbing balm works to alleviate pain and boost recovery within minutes. It's worth keeping in your gym bag in case you overstrain yourself or want a fast recovery post-workout.
CBD Muscle CBD+BCAA:
CBD+BCAA powder works like regular BCAA protein powder where it's metabolized in the liver and filtered into the bloodstream.
However, along with the benefits of BCAA, you also get the phytocannabinoids in CBD for improved recovery.
This supplement is made in the UK and contains 25mg of CBD and 6.2g of BCAAs per serving.
To get the best results, drink this from your shaker bottle before and after your workout.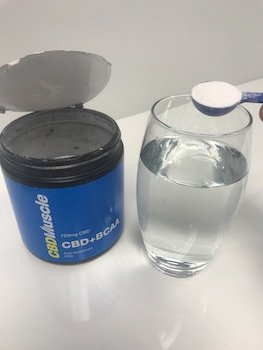 Why Is Full Spectrum CBD Better Than Isolate CBD?
CBD Isolate is the highly processed form of the CBD found in hemp. The name comes from the fact that it is purified cannabidiol with zero THC, cannabis, or other residual cannabinoids.
These are usually advertised for their THC-free natural and not coming up on drug tests. However, this processed CBD Isolate limits the potential health benefits that make cannabis/hemp so popular.
Full Spectrum CBD is made up of the active plant CBD compound. The biggest benefit from this is that you get the full benefits of cannabis without the mind-altering effects of THC.
There is also something called the 'Entourage Effect' which states that the benefits of the synergic components are more prominent than the individual ingredients used separately (7).
So, people prefer to use Full Spectrum CBD products over products with Isolate CBD.
Is CBD Muscle Illegal For Athletes Since It Contains THC?
The full spectrum CBD is known to contain THC. But the deciding factor is that the THC content is less than 0.3%.
This is significant because having a THC content of less than 0.3% makes this 100% legal. So, even with the full-spectrum CBD being used, all CBD Muscle products are legal around the world.
In fact, as of the 1st January 2018, the new regulations of The World Anti-Doping Agency (WADA) have removed CBD from their doping list (8).
So, you can use CBD products and not be charged for doping during professional competitions.
CBD Muscle Ingredients:
Every CBD infused product by CBDMuscle is packed with its unique blend of ingredients.
These proprietary blends are designed in a way that they maximize the potential benefits of all the ingredients used.
In addition, since each product is designed for a specific goal in mind, the necessary benefits, and required ingredients are also unique.
CBD Muscle CBD Oil (6% And 12%) Ingredients:
Olive Oil
Hemp Extract (6% And 12% CBD respectively)
THC < 0.03 %
CBD Muscle Recovery Balm Ingredients:
Hemp Seed Oil (300mg CBD)
Beeswax
Cocoa Butter
Coconut Oil
Grape Seed Oil
Essential Oils
Terpenoids
THC < 0.03 %
CBD Muscle CBD+BCAA Ingredients:
Branched Chain Amino Acid Blend
L-leucine
Flavour
Acidity Regulator (Citric Acid)
Cannabidoil (4% CBD)
Colourant (Allura Red(E129))
Sweetener (Sucralose)
THC < 0.03 %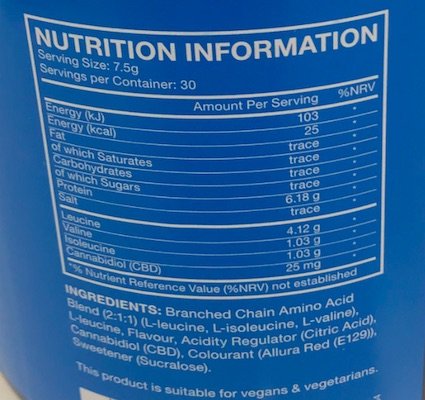 CBD Muscle Benefits:
CBD Muscle Provides Pain Relief:
These CBD products have anti-inflammatory benefits which reduce swelling and ease the pain. Cannabidiol also reduces pain by binding with CB1 receptors (9).
Improves Muscle Recovery:
CBD combats inflammation and activates the immune cells to heal damaged muscle tissue (10). It also relaxes the muscles for improved recovery.
May Slow Down Cancer Spreading:
CBD may have a protective effect on the ability to propagate for some cancers. This has shown to work against breast cancer is one published study (11).
Reduces Anxiety:
CBD is known to decrease severe social anxiety, which can disrupt the quality of life (12). It is also why most people who smoke pot do so to relax.
Combats Joint Pain:
CBD can act as a pain reliever in the joints to boost joint recovery (13). It can also improve joint flexibility and mobility while combating arthritis pain in sufferers.
May Manage Psychotic:
CBD may relieve psychotic symptoms related to schizophrenia, which affects around 2.4 million US residents (14).
Improves Digestion:
CBD can regulate eating habits by promoting appetite when the body needs it. It can also ease vomiting and nausea caused by chemotherapy (15).
Works Fast:
CBD can work in a matter of minutes to alleviate pain and speed up recovery, depending on the delivery method.
CBD Muscle Dosage:
Each product comes with its own set of instructions (provided on the bottle label/box). The best way to use (and maximize) the potential benefits of each product is offered as well.
Steps To Use CBD Muscle CBD Oil:
Take 1-3 drops of this CBD Oil and place them under your tongue.
Keep the CBD Oil under the tongue for 30 seconds.
Swallow the remaining CBD Oil.
Repeat the same process twice a day, in the morning and before heading to bed.
In addition to regular use, CBD Oil is also effective for post-workout recovery when taken immediately after your workout.
It's suggested that you start with one drop per session and slowly move up to the full three drop dosage.
Steps To Use CBD Muscle Recovery Balm:
Directly apply the Recovery Balm to the skin area where the pain is occurring.
Massage the Recovery Balm for a minute (or until the body completely absorbs it).
Repeat the same process on other affected areas as needed.
Note that if the pain is severe or consistent and the Recovery Balm isn't alleviating the pain, consult your doctor.
Additionally, remember that this Recovery Balm isn't for facial applications, and contact with the eyes should be avoided.
Steps To Use CBD Muscle CBD+BCAA:
Mix one level scoop of this CBD+BCAA powdered supplement with 8oz of water (or another beverage).
Take the drink before, during, or after your workout routine.
It's advised that if you want the best results, take at least two of these drinks a day.
CBD Muscle Reviews:
Thousands of people have used CBD Muscle with overall positive response.
Even its Facebook page contains an average review rating of 5 out of 5.
Here is one user who tried this product and experienced the benefits: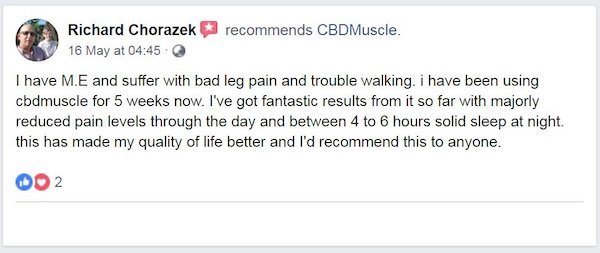 CBD Muscle Side Effects:
CBD is known to provide its health benefits to users without causing any side effects.
This is the same with CBDMuscle because there are no reports of side effects from real users.
Additionally, the manufacturer is so confident with CBD Muscle that there is a 60-day money back guarantee for anyone unsatisfied with their experience.
CBD Muscle Price:
These are the prices for each of the products under CBD Muscle. To check the prices in your local currency, just visit the official website.
I tried to find another site that sells CBDMuscle products but ended up with nothing. In fact, this product isn't even sold on popular e-commerce websites.
So, if you want to buy one of these products, you will have to do so from the official website.
Is It Legal To Buy CBD Muscle In The UK?
CBD Muscle is 100% legal to buy in the UK and other countries because it's not classified as a drug. This is because of the low THC content (<0.3%).
Therefore, you can legally and safely purchase CBD Muscle from their website and have it shipped to your address. It is also not a scam like many CBD products online.
When Should You Expect Your Delivery?
All orders (local and international) are shipped quickly and can be expected within a few business days.
However, if you want to get next-day delivery, you can opt for the same during check out. That said, next-day delivery is only applicable for UK orders when the order is placed before 1 pm BST.
Does CBDMuscle Come With Money Back Guarantee?
CBDMuscle products benefit thousands of men and women around the world.
However, there are a few who find the results do not live up to their expectations. For such situations, the makers have a full money-back guarantee on all their products.
So, if you aren't 100% satisfied with your product, just sent the unopened bottles back (within 67 from placing your order) to get a full refund.
However, this does mean that you will not be able to get a refund on any opened bottles. The high-quality products are also the reason CBD Muscle can promise the full refund while still growing their business.
My Recommendation For CBD Muscle:
While there are several products with CBD out there, few are worth using, and fewer still provide their claimed benefits.
CBD Muscle seems to be one of the rare ones that actually do work. In fact, it works well enough that it's now becoming one of the most popular CBD products to combat muscle pain and improve recovery.
So, if you are looking for a CBD product that provides pain relief and recovery, CBD Muscle is a great place to start.
Which CBD Product Is For You?
CBD Oil (6% CBD): If you are new to CBD products or want minor pain relief.
CBD Oil (12% CBD): If you want the best value for money CBD product that eliminates muscle pain while promoting recovery.
Recovery Balm: If you experience localized pain or want to recover faster after your workouts.
CBD+BCAA: If you want to speed up recovery, promote physical performance while benefiting from the benefits of CBD.
CBD Muscle Review Summary:
CBD Muscle comes with four unique CBD products.
Each product is designed with a specific goal in mind.
Effective against a wide range of problems.
Works quickly and with focused accuracy
Provides affordable pricing.
The best money-to-CBD ratio is for the 12% CBD Oil.
FAQs:
Q. Is CBD a muscle relaxant?
A. CBD has helped thousands with muscle pain as a muscle relaxant.
Q. Can it get me stoned?
A. No. The THC content is low enough that you won't experience any of the mind-altering effects that can be caused by smoking marijuana.
Q. Is CBD Oil organic and vegan-friendly?
A. Yes. Both CBD Oils are made from organic hemp and are 100% vegan-friendly.
Q. Can this show up in drug/urine tests?
A. Most countries and professional sports bodies don't ban the use of CBD, making it legal to use without a problem.
Q. Who makes CBD Muscle?
A. Wolfson Berg Limited is a Cyprus-based supplement maker that sells CBDMuscle. They can be contacted by emailing support@cbdmuscle.com or calling on +44 (0)203 476 6778.
Q. Can this product cause any drug interference?
A. Chances of drug interference are low. However, you should consent your doctor before using it if you have any concerns regarding drug interference.
Q. Is CBD good for muscle recovery?
A. CBD works as an effective anti-inflammatory component for strains when used post-workout to boost muscle recovery.
Q. Do athletes use CBDMuscle?
A. Yes. Several professional athletes use CBD to combat muscle pain and boost recovery. These include Robert Taylor (World Kickboxing Champion) and Chris Eastwood (Supermoto Champion).