DAA Max is the next testosterone booster we will be discussing on mixel.cc. This article will talk about this pill that claims to boost testosterone levels by 44% in just 12 days.
I think that this promise is overly optimistic and challenging to achieve for most men.
So, if you are interested in finding out if it actually helps increase T-levels to this extent, read on. You can also jump to the conclusion if you want to know what I thought of this test booster.
What Is DAA Max Testosterone Booster?
DAA Max is a dietary supplement that uses DAA (D-aspartic acid) to boost natural testosterone production.
This supplement only contains this one ingredient. That said, it has several clinical studies that back up its testosterone boosting attributes.
After taking this supplement, men can expect to see a boost in T-levels within days.
It's also noticed that the boost in testosterone is most noticeable for men who have low T-levels.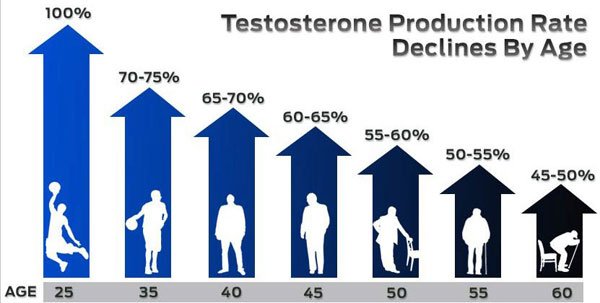 But before we get to the benefits, let's discuss this clinically proven ingredient.
What's The Key Ingredient In This Testo Pill?
The Supplement Facts label on the bottle indicates each serving contains 1500 mg of D-aspartic acid. This ingredient boosts the production and secretion of testosterone in the body.
The increase in T-levels is done by activating the pituitary gland to produce the luteinizing hormone. This hormone is what stimulates testosterone production in the testes.
I have made of list of clinical studies that prove DAA Max's test boosting attributes:
What Are The Benefits To Expect With This Pill?
DAA Max Improved Testosterone Synthesis:
The primary benefit of this pill is its boost in testosterone production. This is achieved by stimulating the pituitary gland to secrete luteinizing hormone.
Improved Nitric Oxide Production:
You may experience a boost in nitric oxide levels due to the higher testosterone levels. This benefit allows more oxygenated blood to be supplied to the muscles, improving performance.
Greater Energy Production:
This supplement is said to promote mitochondrial efficiency. It improves the amount of energy each cell stores and releases during workouts.
Combats Muscle Fatigue:
You should expect a reduction in muscle fatigue due to the higher energy levels and improved oxygenated blood being supplied.
Improved Sexual Health And Performance:
Testosterone is the male sex hormone, and it helps to stimulate better sexual performance. It also improves libido and combats sexual health problems like Erectile Dysfunction and Premature Ejaculation.
Helps With Post Cycle Therapy:
You can use this during PCT. It supports healthy hormone balance and can quickly improve testosterone levels for the same.
Better Workouts:
The improvement in nitric oxide, testosterone, and energy synthesis gives you better workouts. It also improves muscle growth, strength gain, improved stamina, and better endurance.
What Is The Price To Buy This Test Booster?
On the official site, you can buy a bottle for USD 19.95 plus shipping.
The shipping and handling charge varies between USD 3.47-24.36.
The lowest price you can get for this product is USD 25.32 for a 60-day supply.
That's an effective price of USD 12.66 per month.
What Is The Conclusion Of This Review?
Everyone likes products that are light on their wallets. This includes me.
However, there is more to a product that just its price.
For example, this product costs less than thirteen dollars per month. However, it comes with the disadvantage of causing a buildup tolerance of DAA. You also need to cycle it to maintain its potency.
All these factors reduce the value of the product quite low.
After all, several alternatives contain all-natural ingredients, provide the same benefits, but cause no side effects.
These alternatives have a higher price tag but are still better than dealing with a side effect causing product.
So, to conclude, I don't recommend you buy DAA Max. Instead, I would advise you to buy an alternative test booster that causes no side effects.
Which Alternatives Do I Recommend?
If you want to get similar testosterone boosting benefits but without the side effects, you can buy one of these:
What Are The Most Common FAQs?
Q: What is the recommended dosage for this supplement?
A: The daily recommended dosage is two pills in the morning with a meal.
Q: Is there a different dosage for this pill for PCT?
A: Yes. When using the supplement with PCT, take four pills a day. Two in the morning and two in the evening, both with a meal.
Q: How many pills does each bottle contain?
A: Each bottle contains 120 capsules. That's a 30-day supply with PCT and 60-day supply with regular use.
Q: Do I have to cycle this product?
A: Yes. The recommended cycle is 60 days ON and 30 days OFF.
Q: Do the mentioned alternatives cause tolerance buildup like DAA Max?
A: No. The alternatives picked have had no reported side effects.