Power Boost by Giant Health Benefits is a workout performance booster that our readers have asked us to review.
In this article, you'll get the key information on this product along with a conclusion at the end.
Our recommendations for those who want to gain muscle mass easily are also mentioned in this article.
When you start working out to gain muscle or lose weight, you see the best results right after you start.
However, after a while, you are no longer losing weight as quickly or gaining muscle as much.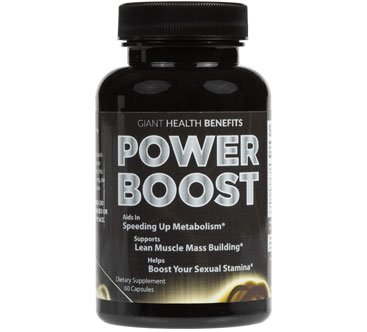 This is where it gets hard to stick to your workout routine. It is also when people search for ways to boost their workout performance using supplements and pills.
Power Boost is one of the many online pills that promise to take your workout to the next level.
What Is Power Boost?
This is a testosterone booster that claims to make it easier for you to gain muscle and lose fat.
Unlike some advertisers and promoters, I won't pretend to make this pill sound like a miracle solution to get lean.
If you want to use this pill to gain muscle, you are going to need a healthy and balanced diet.
Additionally, you will need to exercise and push yourself at the gym regularly. When you are able to do both while taking muscle gain pills, you should see visible muscle gain within weeks.
Who Makes Power Boost?
Giant Health Benefits is a California-based company that makes this testo-booster. However, the online deals are marketed by a Utah-based company called Van Alphen Holdings LLC.
If you have queries about the product or returns, contact Power Boost's makers:
Phone: +1 (844) 746-3979 (Availability: Monday to Friday 10am-6pm)
Address: Van Alphen Holdings LLC, 1625 Palomino Cir North Logan, UT 84341
How Does Power Boost Work?
This pill makes use of a blend of natural ingredients to promote your body's natural testosterone production. These ingredients are blended using the FlowViv MAX-TEST Blend.
They stimulate the adrenal gland to secrete more testosterone. This naturally increases the hormone's level in the body.
With the increase in testosterone, you can experience the well-researched benefits of higher testosterone levels. These include increased muscle strength, accelerated muscle growth, faster weight loss, and improved mood.
The natural ingredients also help boost your sexual stamina and libido with the increase in testosterone. Sexual performance and fatigue recovery are also promoted due to improved blood circulation.
The lists of ingredients in Power Boost include:
Calcium (44.28 mg)
FlowViv MAX-TEST Blend (1484mg)

Horny Goat Weed
Tongkat Ali
Saw Palmetto Extract
Orchic Substance
Wild Yam Extract
Sarsaparilla
Nettle Extract
Boron
What Are The Benefits Of Power Boost?
Power Boost improved testosterone production
Faster muscle gain
Enhanced fat burn
Heightened metabolic rate
Increased workout performance
Better mood and mental health
Improved sexual performance
Supported libido levels
What's The Recommended Dosage?
Each bottle comes with a 30-day supply of 60 capsules. This comes to a recommended dosage of two pills a day. You can take these pills in the morning with some water for the best results.
This information was not mentioned on the official site but following this dosage should be safe.
What Are The Side Effects?
The manufacturer's site also claims that product causes zero side effects.
Most products like this one are made from natural ingredients. These are usually used in low concentrations that aren't sufficient enough to cause any side effects.
It's also why there are no reports of side effects with this dietary supplement. However, ensure that you don't go over the dosage as this may cause constipation or other minor inconveniences.
Who Should And Shouldn't Take This Supplement?
This is a testosterone booster. So, it shouldn't be taken by women and children. This can cause a hormone imbalance that can cause further complications.
It's adult men who are the intended users of this supplement. When men use this product, they may experience a boost in muscle gain and fat loss. It's also effective at combating low-T problems in men.
Has The FDA Evaluated This Supplement?
The FDA doesn't evaluate dietary supplements that are sold online. However, the product bottle does mention that it was made in an FDA-approved facility.
Where To Buy Power Boost?
You can order this testosterone enhancer from the official site with their risk-free trial offer.
However, many people have warned against buying this product with this trial offer due to some unexpected charges/fees.
The charges you will end up paying when buying the risk-free trial for Power Boost:
$9.95 for Shipping and handling to have the trial bottle sent to your address.
$69.99 for purchasing the bottle that's already received (if you don't cancel the trial within the 14-day trial period).
$75.95 every 30 days after that for a new bottle sent to your address every month.
This $75.95 is a monthly recurring charge. To cancel your subscription and stop further shipments/charges, you need to call the customer service.
However, canceling the subscription is difficult to do, according to some user reviews. So, instead, you are better off avoiding the trial offer altogether.
Conclusion Regarding The Purchase Of Power Boost:
This product is designed with a potent set of ingredients, like Saw Palmetto, that are clinically proven to promote testosterone. The user reviews I found online also support the testosterone boosting benefits of this supplement.
But it's the trial offer's recurring charges and high price tags that harm this product's reputation. This is because while the product does help boost testosterone, it isn't worth $75.95 for a single month's supply.
So, if you are considering the trial offer for this workout enhancer, I suggest against this option.
For those looking towards improving their testosterone levels using OTC pills, TestoGen is a great choice.
The Better Recommendation: TestoGen
TestoGen is one of the top-ranking testosterone boosters on mixel.cc. It's a safe and fast-acting testosterone booster that uses a set of quality ingredients to improve your workout performance.
However, unlike Power Boost, TestoGen can be directly purchased from the official site. It is also a lot more affordable and comes with FREE worldwide shipping.
The list of ingredients in TestoGen:
Tribulus Terrestris
Zinc Gluconate
Vitamin B & D
Selenium
D-Aspartic Acid
Fenugreek
Ginseng Extract
Online Deals To Buy TestoGen:
$179.99 for Five Bottles with a free eBook
$119.99 for Three Bottles
$59.99 for One Bottle
If you are looking for a quality testosterone booster to improve your workouts, look no further than TestoGen.
Read The In-Depth TestoGen Review