Tevida is a testosterone booster that doubles as a male enhancement supplement and has made some big promises lately.
That said, not everyone is convinced that Tevida can provide its claimed results and that it's worth buying.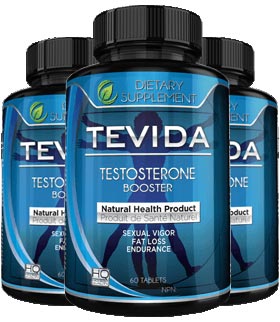 For this article, I've dug deep into all the promises and hype surrounding Tevida to get to the real facts. If you want the real truth being this male enhancement supplement, this article is written especially for you.
That said, if you are more interested in my final recommendation over the process, you can jump to the conclusion.
What Is Tevida?
Tevida claims to be a testosterone booster that is designed for men who want to improve their sexual performance.
The official site has images of older men in their late 40s and 50s. So, it's fair to say that these are the men this product is aimed towards.
This makes sense as men can experience a drop in testosterone of 1-2% per year as they get older (1).
So, a cursory look at this product indicates another sexual health-boosting pill, like the other thousands in the market.
However, unlike some of the well-known products, Tevida seems to have a few issues that indicate potential issues for buyers.
I'll point them out throughout the article and explain my analysis.
One of the most obvious ones is how the official site claims Tevida to be 'The Number One Testosterone Booster Pill In The USA.'
I've been writing reviews on health products for several years now, and I hadn't even heard of Tevida until recently.
So, how is it that this product claims to be No.1?
There is also no evidence to back up this claim either. So, you are just expected to take their word for it, making this claim look like a straight-up lie.
How Does Tevida Work?
The basic principle behind how works is simple:
Boost testosterone levels for better sex drive, energy, and sexual performance.
Boost blood flow to the penis for better erections, recovery, and endurance.
This product is also supported by several well-researched and scientifically proven natural ingredients.
One issue I have with the makers is how technologically advanced they make the working process of Tevida out to be.
This is because this product is one of the thousands that boost testosterone and nitric oxide to promote sexual performance in men.
Simply put, it is not as special as its claims make it out to be.
Tevida Ingredients: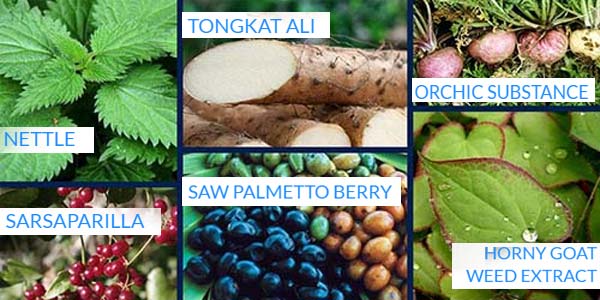 The list of natural testosterone boosting ingredients above is very convincing of this product's capabilities.
However, there are a few problems that are too big to ignore.
The biggest one is that there are no ingredient values mentioned.
There is no indication of the amount of each ingredient used in the supplement.
I checked online but couldn't find the Supplement Facts label anywhere.
This is a big red flag as you have no idea if they even used these ingredients. In addition, also if they did use the ingredients, were the amounts sufficient to see results?
This lack of information dampens any excitement that was generated because of the ingredient list.
Another problem I noticed was that the website links to clinical studies for Ginseng and L-Arginine.
While L-Arginine is known to help men with ED, none of these is included in Tevida.
Who Makes Tevida?
The makers of Tevida have not been mentioned on the official website.
According to the T&C and Privacy Policy pages, the company behind this product is also called Tevida.
They do provide an address for their company, but it's a PO Box. This is a big red flag when buying online products.
Additionally, the address provided is in Canada while the site claims Tevida is USA-made.
Anyway, this is the customer service details provided for Tevida:
On BBB.org, I found that Tevida is not BBB-Accredited, has a BBB-rating of F, and an average 1-star customer rating (16).
Tevida Benefits:
Tevida Improves sex drive
Let's you last longer in bed
Provides harder erections
Improves sexual confidence
May increase penis size
These are the potential benefits of using this product. Unfortunately for Tevida, these advantages are not unique when compared to the other testosterone boosters out there.
These benefits may be possible with sufficient dosage from the mentioned ingredients.

However, I doubt that the pills contain anywhere near the needed dosage of each ingredient to promote these sexual health benefits.
Tevida Side Effects:
According to the official website, Tevida comes with no side effects.
I was not able to collaborate this statement with any evidence of studies or trials conducted on the product.
So, it seems that this is just a claim made without any backing.
Even so, there is little mention of the side effects on this product's Facebook page. There are several negative comments, but only one on the effects of the pills.
Tevida Scam:
While looking at the Facebook comments on the Tevida page, it's clear that many people believe this product to be a scam (17).
Honestly, if this was just one or two people, I would have my doubts.
However, when tens of people admit to being coned out of hundreds of dollars by the same product, it's clear that something is wrong.
So, I did some digging into the BBB company profile and ended up finding several other scam alerts by users. On the BBB website, I found that this product has a 1-star rating.
Additionally, there were 5 complaints registered in regards to unexpected credit card charges by the company. These complaints indicated that the company debited over $100 after then got a risk-free trial that should have only charged them $4.95.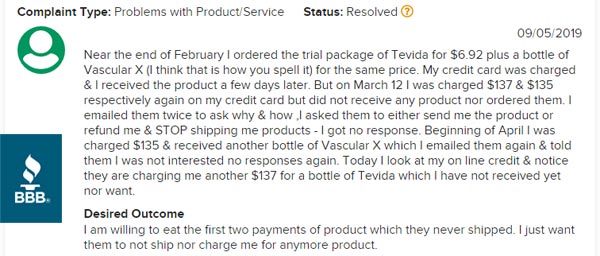 Customers also complained that the company charged them for another bottle after 30 days for a product they didn't ask for, nor want.
In the end, only three complaints have been resolved (at the time of writing this review). Even so, I am sure that there are hundreds of other customers that end up being coned the same way.
So, it's clear that Tevida is one of those free trial scams that con you into becoming a long-term customer.
Simply put, I'm convinced that this is a scam and one that should be avoided.
Tevida Risk-Free Trial:
When I checked the manufacturer's site, the only available deal was this risk-free trial offer.
This trial offer claims to let you try the product without any risk. For this privilege, they ask you to pay for shipping only ($4.95).
If this was all, I wouldn't have a problem with Tevida.
What's The Actual Price You Pay To Buy Tevida?
They fail to mention that if you don't return the product within the trial period (14 days), you are charged for the bottle ($97.99).
Additionally, signing up for the trial offer also enrolls you into their auto-shipment program.
This program automatically sends you a new bottle every 30 days, for which, you are charged ($4.95+$97.99) each time.
Is It Possible To Cancel The Auto-Shipment Program?
They claim that it's easy to cancel the subscription as all you have to do is give their customer service a call to get started.
However, many similar scams have done this with great success in avoiding canceling customer subscriptions. They do this by employing rude, aggressive, and uncooperative staff. More often than not, their phone lines are busy or otherwise unavailable.
Their tactic is to delay giving you the RMA number required to get a refund for a few days until the trial period expires. After that happens, you can't ask for a refund, even if you want to.
For most people in this situation, the only thing they can do is ask their credit card companies/banks to decline further charges by the company.
Posting an official complaint with the BBB and complaining to the FTC is also helpful.
The Conclusion For This Tevida Review:
Looking at the many complaints about Tevida being a scam, even the few positives about this product are overshadowed.
While it's not clear if Tevida is capable of providing the claimed male enhancement benefits, the price to pay is definitely not worth it.
So, if you are considering Tevida, I recommend you skip this one for another well-reputed product.